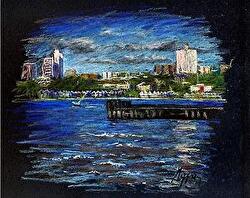 Across the Hudson to Guttenberg, 8 X 10 inches, pastel on paper, by Frances Gaffney
In an earlier blog I wrote about Richard Gilkey and his thoughts on the nature of consciousness.
What color is consciousness? Richard Gilkey believed it was black. He described this concept by allowing the background color to seep into the painting, sometimes serving as an outline but always apparent in the rough surface of the canvas. He called this consciousness the "cloud". He was interested in the new science of the Unified Field and wished to find a way to paint about it. There is a fine article about this Pacific Northwest artist at Kingfisher Press (see the following link: http://www.kingfisherpress.com/).
I am very moved by Gilkey's work and have wanted to experiment with a background color for a while. Pastel pencils are the perfect medium for this study. In Across the Hudson to Guttenberg, the drawn lines represent the expression of consciousness, but the black ground represents consciousness itself. Not entirely sold on the color of consciousness being black, and imagining it is closer to the color of the sky; (cerulean or perhaps periwinkle), I plan to experiment with a variety of colored papers.
Comment on or Share this Article →